IP68 FlexmondTM is a combination of SMD LEDs and extrusion technology.The SMD (Surface Mounted Diode) print the print plate on which the LEDs have been assembled directly-has been enveloped with a transparent,UV/IR-protected PVC housing.The result is a high-quality product with which you can create colorful and amazing linear light accents.It is a very efficient and multi-purpose solution for various architectural in- and outdoor applications.
Features
- Flexible linear lighting
- Very clear SMD LEDs,designed for free cutting every 6 LEDs
- Low energy consumption and high light yield
- Protected against humidity: IP68
- No maintenance and durable
- Long extension leads
- Possibilities to shorten, connect and roll,user can use DIY accessories for easy connection of cutting sections
- Extremely functional and multi-purpose,UV resistant,suitable for outdoor and indoor application
- Much brighter than normal rope light
- Dimmable
- Accessories included
Great advantages
- eco friendly
- long life span,standard warranty 3 years
- complete cut / connection accessories
- no need of constant-current power feed
- low power consumption
- custom packing
Applications
- Linear pool light
- Architectural lights for canopy, corridor, window, archway
- Backlight or edge lighting for signage
- DIY lights for home use
- Path and contour marking
- Decorative lights for holiday, event, show, exhibition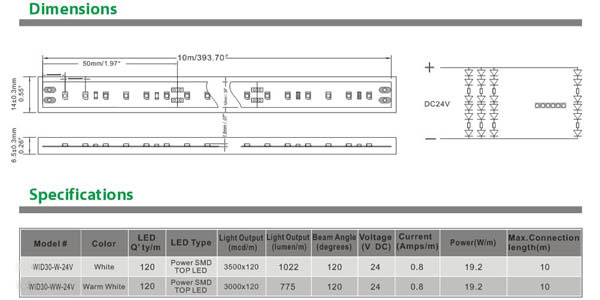 - The strip itself and all its components may not be mechanically stressed.
- Assembly must not damage or destroy conducting paths on the circuit board.
- Installation of LED ribbon (with power supplies) needs to be made with regard to all applicable electrical and safety standards.Only qualified personnel should be allowed to perform installations.
- Correct electrical polarity needs to be observed. Wrong polarity may destroy the strip.
- Parallel connection is highly recommended as safe electrical operation mode.
- Serial connection is not recommended. Unbalanced voltage drop can cause hazardous overload and damage the strip.
- Please ensure that the power supply is of adapters power to operate the total load.
- When mounting on metallic or otherwise conductive surfaces, there needs to be an electrical isolation points between strip and the mounting surface.
- Pay attention to standard ESD precautions when installing the strip.
- Damaged by corrosion will not be honored as a materials defect claim. It is the user's responsibility to provide suitable protection against corrosive agents such as moisture and condensation and other harmful elements.
- Do not power more than 10m of IP68 FlexmondTM with merely a power supply.Otherwise the brightness will decay. Max. 10m is recommended to be powered seperately.
- Caution needs to be taken while doing the connection after cutting the strip. Only authorized professionals can do the work to enable it waterproof in wet locations.


RFG warrants this product ("Product") against defects in material or workmanship for a period of three years from the date of purchase. If this Product is determined to be defective, RFG will repair or replace the Product, at its option. This warranty does not cover cosmetic damage or damage due to acts of God, accident, misuse, abuse, negligence, commercial use, or modification of, or to any part of the Product. This warranty does not cover damage due to improper operation or maintenance, connection to improper voltage supply, or attempted repair by anyone than a facility authorized by RFG to service the Product.

Repair or replacement as provided under this warranty is the exclusive remedy of the customer. RFG shall not be liable for any incidental or consequential damages for breach of any express or implied warranty on this Product except to the extent prohibited by applicable law, any implied warranty of merchantability or fitness for a particular purpose on this Product is limited in duration to the duration of this limited warranty.

Some states do not allow the exclusion or limitation of incidental or consequential damages, or allow limitations on how long an implied warranty lasts, so the above limitations or exclusions may not apply to you.? This warranty gives you specific legal rights, and you may have other rights which vary from state to state.
Only RFG may change, amend or modify the terms of this Limited Warranty and any such change, amendment or modification shall be in writing and issued by RFG. To obtain warranty service and shipping information call +86 755 2910 0781 or e-mail china@rfg-light-led.com You must provide proof of purchase in the form of a bill of sale or receipted invoice which is evidence that the Product is within the warranty period to obtain warranty service. Consumers have legal rights under applicable national legislation governing the sale of consumer goods. Such rights are not affected by the warranties provision outlined in this document.