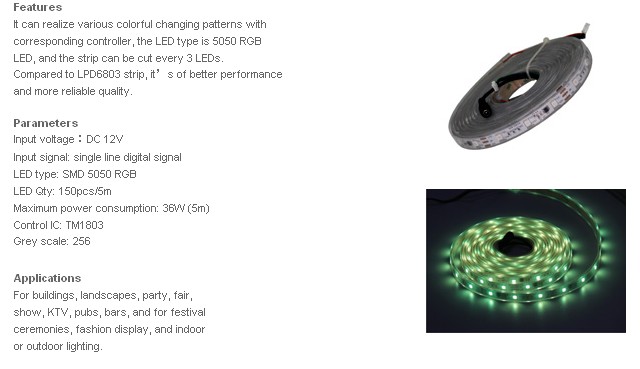 Dimensions (Unit:mm/inch)
Specifications
Model #

Dimensions
(mm)

LED Q'ty

LED Type

Light Output

Light Output (lumen)

Beam Angle (degrees)

Voltage (V DC)

Current (Amps)

Max.Power Consumption(W)

Max.Connection
length(m)

RFG-WID-RGB2

5000x12

150

SMD 5050 RGB LED

1500x150

625 lm

120

12

2.6-3

36

100
Control Mode
TM1803 adopt the return-to-zero code single line controlling method as below. If you want more technical support, please contact us.
Operation Guide
● Connect the connector of the strip to the output of the controller, then electrify the controller.
● When connect more than one strips, connect the input of the additional strip to the last output, and electrify this additional strip with another DC12V power supply. Please note that you should electrify the controller before all strips is well connected.
● If you want to do bare-line connection, please watch the color of the wires, wires with same color should be bonded and insulated with tape.
Note
1. Watch the input and output, it can not be reverse-connected.
2. Ensure the power supply is DC12V.
3. Only professional personnel is advised to cut the strip and connect elsewhere, when this is truly in need, please ask for instruction in advance, watch the input and output of the strip, it can not be reverse-connected.
RFG Limited Warranty
RFG warrants this product ("Product") against defects in material or workmanship for a period of three years from the date of purchase. If this Product is determined to be defective, RFG will repair or replace the Product, at its option. This warranty does not cover cosmetic damage or damage due to acts of God, accident, misuse, abuse, negligence, commercial use, or modification of, or to any part of the Product. This warranty does not cover damage due to improper operation or maintenance, connection to improper voltage supply, or attempted repair by anyone than a facility authorized by RFG to service the Product.

Repair or replacement as provided under this warranty is the exclusive remedy of the customer. RFG shall not be liable for any incidental or consequential damages for breach of any express or implied warranty on this Product except to the extent prohibited by applicable law, any implied warranty of merchantability or fitness for a particular purpose on this Product is limited in duration to the duration of this limited warranty.

Some states do not allow the exclusion or limitation of incidental or consequential damages, or allow limitations on how long an implied warranty lasts, so the above limitations or exclusions may not apply to you.? This warranty gives you specific legal rights, and you may have other rights which vary from state to state.
Only RFG may change, amend or modify the terms of this Limited Warranty and any such change, amendment or modification shall be in writing and issued by RFG. To obtain warranty service and shipping information call +86 755 2910 0781 or e-mail china@rfg-light-led.com You must provide proof of purchase in the form of a bill of sale or receipted invoice which is evidence that the Product is within the warranty period to obtain warranty service. Consumers have legal rights under applicable national legislation governing the sale of consumer goods. Such rights are not affected by the warranties provision outlined in this document.